Energy-efficient technologies don't start saving money and reducing energy consumption until people start using them. The research and development of new technologies isn't complete until they are put into practice.
That's where the Department of Energy's Rebuild America program comes in, with the help of Lawrence Berkeley National Laboratory's scientists and consultants, among others. Rebuild America helps communities create partnerships to make energy-efficiency improvements that help save money and revitalize buildings.
Rebuild America focuses on five areas -- schools; colleges and universities; state and local governments; public and multi-family housing; and commercial buildings -- and the program has more than 500 community partners in every state of the union.
Between 1995 and 2002 DOE invested $51.5 million in the program, resulting in the renovation of more than 500 million square feet of building space; additional projects amounting to 570 million square feet have been committed or are underway. Rebuild America estimates that its work is saving $131 million dollars annually in energy costs (9 trillion BTUs); through the end of 2002, the program leveraged a capital investment of $600 million.
When Rebuild America representatives encounter questions that require more in-depth technical assistance than they can provide, they refer partners to expertise in DOE's national laboratory system. Most technical assistance is provided by Rebuild's business partners and by three national labs: Pacific Northwest, Oak Ridge, and by the Environmental Energy Technologies Division (EETD) at Berkeley Lab.
Rick Diamond, a scientist in EETD, who manages the Rebuild America Program at the Lab, spends a considerable amount of time working to help communities that need technical assistance on energy-efficient retrofits. Barely a week goes by when he isn't working on one Rebuild America request or another.
"Today I've been working with the City of East Palo Alto, California, to identify bulletproof, energy-efficient street lighting fixtures," Diamond said recently. The previous week, he'd been facilitating a workshop on energy-efficient multifamily housing in Kansas City, Missouri.
"We respond to about 50 to 60 calls per year for design assistance referred to us from Rebuild," says Diamond. "The help we provide can range from a simple telephone call, to referrals to papers, web sites and design guides, to teaching design workshops, to spending a week or two working with a design team planning a retrofit project."
Usually requests are assigned to specific labs by geography or because of special expertise. Diamond's Berkeley Lab colleagues have helped Rebuild America bring energy-efficient design to major public buildings, schools, and housing projects; have reviewed specifications for energy-efficient systems in public buildings; and have taught workshops on energy-efficient design for the public, community officials, and architects.
Diamond adds that design assistance includes "helping the client understand what kind of savings it is possible to achieve through energy efficiency in their project, and acting as a resource to the design team, helping them use energy modeling programs, for example."
Diamond counts 24 people in EETD or Berkeley Lab's Facilities Department who have worked on Rebuild technical assistance or related projects recently, including Hashem Akbari, Dariush Arasteh, Doug Avery, Owen Bailey, Vlado Bazjanac, Allan Chen, Rick Diamond, Liz Exter, Chuck Goldman Steve Greenberg, Nicole Hopper, Judy Jennings, Saki Kinney, Jim Lutz, Nance Matson, Laura McLaughlin, Evan Mills, Erik Page, Mary Ann Piette, Francis Rubinstein, Dale Sartor, Michael Siminovitch, Haider Taha, and Charles Williams.
Here are a few of the Rebuild America projects to which Berkeley Lab staff has lent a hand:
Rehabilitating the Oakland Housing Authority's multifamily housing
The Oakland Housing Authority (OHA) provides housing for low-income residents of this California city. More than 48,000 residents live in OHA-owned units, or in units supported by rental assistance.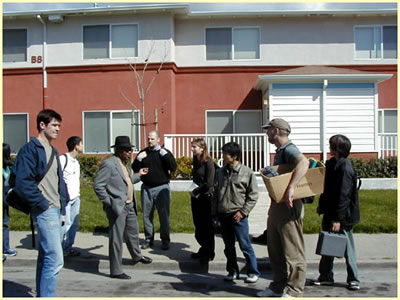 Oakland Housing Authority architect David Brown shows Rick Diamond (right, in cap) and his UC Berkeley architecture students the newly renovated public housing at Lockwood Gardens, Oakland, California. Photo: Judy Monnier, OHA.
"We have been providing design specifications for improving the energy efficiency of ventilation and of HVAC systems to OHA for the rehabilitation of old units," says Diamond. (HVAC stands for heating, ventilation, and air conditioning.) This has been an ongoing project for several years.
In 2002, OHA won Rebuild America's Energy Champion Award for Partnership of the Year -- recognized for its progress in saving energy and money by making energy efficiency improvements in 242 of its 267 sites. More than 2,290 units at 18 sites received energy-efficiency improvements in common areas, like new fluorescent lighting, energy-efficient boilers, and Energy Star® washing machines and dryers. The total annual utility savings is expected to be about $362,000.
Helping cities and states with energy-efficient lighting
Energy-efficient lighting is often at the top of the list in retrofit projects. Berkeley Lab staff has assisted cities with a great variety of lighting projects. Berkeley Lab researcher Judy Jennings responded to a request from Rebuild Hawaii about occupancy sensors.
"Their question was whether occupancy sensors reduced the life of energy-efficient compact fluorescent lamps. I put together a brief study and a spreadsheet for them answering the question." Says Jennings, "Occupancy sensors help save so much money on lighting energy that the effect overwhelms other factors, such as a slight decrease in lamp life."
Traffic lights provide another opportunity for cities to save money, reducing energy use as well as maintenance costs. Owen Bailey, a graduate student who is working with the Environmental Energy Technologies Division and who spent summer 2002 at the Lab, is helping the City of San Antonio, Texas, evaluate the economics of installing solid-state traffic lights based on LEDs (light-emitting diodes). In addition to using much less energy, these lights are longer-lived than incandescent models, saving substantially on maintenance costs.
| | |
| --- | --- |
| | |
| | |
| | |
| | Traffic lights using LEDs instead of incandescent bulbs repay their higher initial costs with lower energy costs and fewer bulb replacements. |
| | |
"San Antonio was looking for a review of their financial analysis and an estimate of the payback period, or some other financial measure," says Bailey, currently a graduate student at Cornell University's Environmental Systems Group, in the Civil and Environmental Engineering Department. "I prepared a payback spreadsheet calculator to allow them to insert their own estimates of certain values, such as components of the electricity tariffs and the labor costs involved with traffic signal maintenance. The payback period would then be updated based on the input values they selected."
Bailey also set up a spreadsheet to compute the net present value of the project (a financial measure of all the future savings from the lights, as though they were accrued immediately), phasing in LED signals over five years for all intersections, and calculating benefits over 14 years.
The minimum savings he calculated, at three percent interest, was $2.4 million. "As a finance professor said," Bailey notes, "doing the project is like finding $2.4 million under a rock."